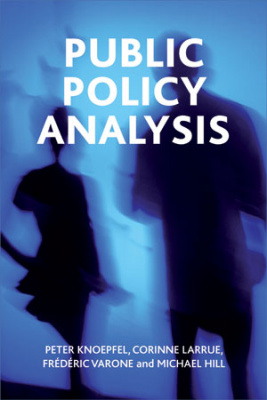 Verlag: Policy Press (Bristol)
Co-Autoren: Corinne Larrue, Frederic Varone, Michael Hill
Seiten: 336
ISBN: 978-1847429049
2. Ausgabe

1. Ausgabe: 2007
This book is an English version of a successful text on public policy analysis originally written for policy practitioners in Switzerland and France. It presents a model for the analysis of public policy and includes examples of its application in everyday political-administrative situations. This English version introduces supplementary illustrations and examples from the United Kingdom.
Structured and written accessibly for readers who may not have an academic background in the social sciences, Public Policy Analysis applies key ideas from sociology, political science, administrative science and law to develop an analytical framework that can be used to carry out empirical studies on different public policies.
British scholars, practitioners and students are introduced all too rarely to ideas from the Francophone world, and this book will contribute to remedying that. It will be particularly relevant for students and practitioners of public administration.