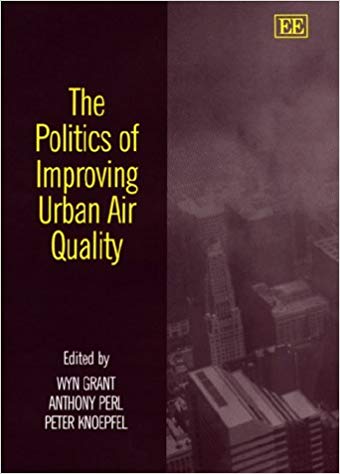 The Politics of Improving Urban Air Quality
Editions: Edward Elgar (Cheltenham UK/Northampton USA)
Co-auteurs: Wyn Grant, Anthony Perl
Pages: 222
ISBN: 978-1-85898-696-8
Improving urban air quality has become a policy priority for the European Union, national governments and city authorities as more evidence comes to light of the harmful health effects of road traffic pollution. This book clearly illustrates how to work towards effective policies for improved urban air quality.
The authors argue that designing and implementing successful policies is not just a matter of deciding on the most appropriate technological solutions. A process of institution building has to take place which works towards consensus among a variety of potentially divergent interests; from the police and highway authorities to business interests and citizens. Making use of policy network theory, this volume presents studies of attempts to build such coalitions, and the factors that have often frustrated them, in countries such as Canada, France, Italy and Switzerland. This book provides a major contribution to the theoretical and empirical understanding of the policies needed to combat road traffic pollution.
The Politics of Improving Urban Air Quality will prove invaluable to scholars of environmental studies and public policy.